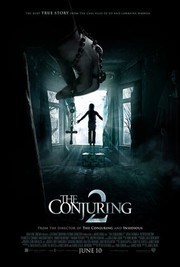 The second half of my double feature was a James Wan production, which means solid jump scares and solid characters to latch onto. In this second installment of the series, so to speak (as Annabelle was part of this series too, just without the Warrens), the story follows Ed and Lorraine Warren as they start to embark on far more notoriety than anticipated after their investigation into the Amityville deaths. Not long into the movie, the scene shifts to London to what is purported to be one of the most investigated hauntings. To me, the best part of this movie was that there was some credence given to the events perhaps being faked. In most horror movies, the sceptic is the first to die, but not in this case.
Back in America, in the beginning of the movie, Lorraine is haunted by what looks like a nun, purporting Ed's imminent death, after which, she begs Ed to no longer take any news cases. Not long after, the couple are confronted with a tape from the Enfield haunting and go, on behalf of the church, just to see what is going on. The couple arrive and are pretty quickly confronted by things they can't explain. Lorraine, the psychic, doesn't feel anything at all, making her more skeptical than Ed. They witness quite a few events, but once a news crew captures one of the children in the house throwing things, and not an entity, the entire incident seems to be debunked. The Warrens realise their mistake and hurry back to the house in time to save the girl and her family.
What this new edition lacks in believability, it makes up for with plenty of jump scares and terrifying sequences. When the hauntings first begin, things are downright eerie. The girl who is being haunted seems to transport around the house, waking up in a room that isn't her bedroom more than once. The idea of this haunting might be just as terrifying as the others mentioned, but it didn't come off nearly as scary. Also, if you're a fan of Orphan Black, Mrs. S, Siobhan, is the neighbor to the haunted family.
For a horror movie helmed by James Wan, this was about the median production. It wasn't great, but it wasn't terrible either. Patrick Wilson and Vera Farmiga are great together. Some may forget, but Patrick Wilson was in the film adaptation of Phantom of the Opera and we get to hear him sing an Elvis song in this movie, well worth the $6 right there. The effects were not overbearing, but just enough to make everything just a touch scarier. I did wonder if there would be more to the debunking when the movie ended, but there wasn't. I do hope Wan picks a less well known haunting should there be a Conjuring 3.