Another year and another early exit for my hometown Washington Capitals.

I sat horrified as they let the Tampa Bay Lightning manhandle them, as the Canadiens had done last year and the two PA teams had done the previous two years.

As a fan, you don't think about odds, your team is always the best team.

That's why you root for them, and this was no exception.
When the season started, I had just become a season ticket holder, and it was worth every penny, I won't go back on that now.

I spent a good amount of time selling the tickets, making money off of more than two-thirds of the season and going to about fifteen games.

You might say that being a season ticket holder and having sold most of my tickets, that this is really more financial than not, and I can't argue that point, but there was a great deal of motivation to see the team.

Throughout the year, whether they were playing at home or away, I found myself watching the games avidly, always hoping for a win.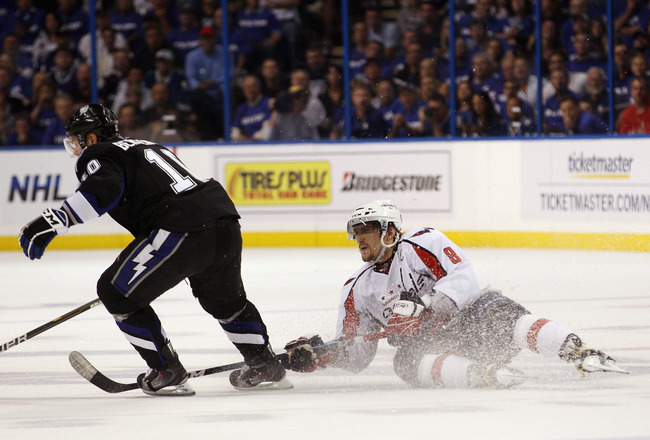 Eight not so great

And having watched the team closely, and being a fan, I think I can say this succinctly: they were never good.

They never played well, they never played with any drive, they just went through the motions.

Alexander Ovechkin, after the game, said that everyone wanted the win, but I never saw it.

Throughout this four-game sweep (the Lightning sweeping the Caps), I knew that Tampa wanted it.

They brought their A-game day-in-day-out.

And this after they played a tough seven-game series with the Penguins, with two days of rest, they beat the stuffing out of a well-rested Capitals team, and just keep hitting them.
A lot can be said about how well the Lightning played, and that can't be ignored, they were outstanding, but the Capitals lost this series, the Lightning didn't win it.

If I were Ted Leonsis, I would look long and hard at how much you're paying the players and how psychologically tough they are.

I saw a bunch of guys just feigning concern, but knowing they're still going to get paid.

They have no drive and no passion.

If they did, they would never have been bumped out of the playoffs so quickly.
It makes me sad that they can't find a reason to fight back.

I worry that the coach will take the fall for this, and I don't think he's to blame.

He does need to instil the urgency in the team that is clearly lacking.

There should be an understanding, there is no next year.

If you set the stage like that, I think the reactions will be very different.

I think the team is complacent and lazy.

I don't know if I'll bother with the rest of the NHL playoffs, call me a sore loser, I don't care, but I just don't know how much more I have to give to the NHL and get nothing in return.